Tschingis Koarl on the way to meet Genghis Khan
Together with his friends, Lower Austrian social worker Andreas Wimmer drove all the way from his hometown of Leobersdorf near Vienna to Ulaanbaatar, the capital of Mongolia. They brought an old fire brigade car to Mongolia on the Mongolia Charity Rally. Part of his group Tschingis Koarl would have loved to turn back at the Russian border. But the guys eventually made it through and they did not regret it: the trip through half of Siberia all the way to Ulaanbaatar made Andreas and his friends Michael, Manuel, Alexander, and Matthias grow. Andi's story inspires me to simply do things without overthinking them and without procrastinating. And it shows that we can always make the decision in our lives to go somewhere else and do something new.
About Andi
Name: Andreas Wimmer
Born in: 1989
Job: Social worker
Country: Austria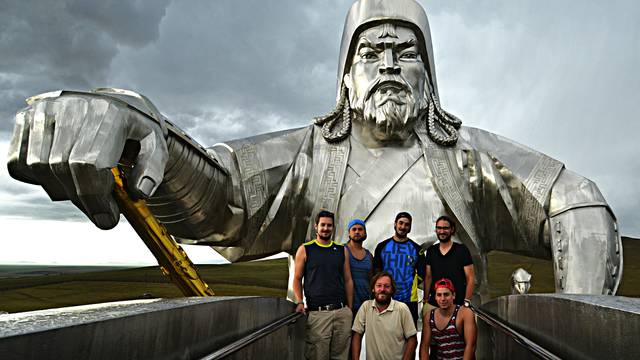 Tschingis Koarl meets Genghis Khan. Picture by Tschingis Koarl
Driving to Ulaanbaatar
First of all thanks for taking the time to answer my questions.
Last year you went on an incredible road trip to Ulaanbaatar with your friends. How did you get the idea to participate in the Mongolia Charity Rally?
I was invited to a wedding in Upper Austria and got into a conversation with someone who had already done it. I thought that was pretty cool so when I got home, I had a few spritzers with my fellow scouts, who have been my friends for ages. They instantly agreed to do this.
You had to do a lot of fundraising for the participation fee, the car, and the expenses for the journey. Was that a part of the adventure or something you had to get over with?
Admittedly, that was a lot of work. Fundraising is a part of such a journey. We organised three parties – and fortunately, the people there were really generous. If you want to participate, you have to raise about 10,000 euros. But we knew that beforehand. We bought our fire brigade's old car. The Mongolian import tax on old cars is fairly high. Then we had to pay for the hotels and the food – we did that with our own money. That was an additional 500 euros per person.
You are free to choose the route, which can be up to 15,000 kilometres long. What does it feel like to get into the car knowing you're not off to the supermarket or to work but to central Asia?
That's a pretty weird feeling – knowing that such a long route lies ahead. The people of our hometown of Leobersdorf said farewell at the main square and then you just drive off. I love driving, though. So driving such a distance was pretty cool.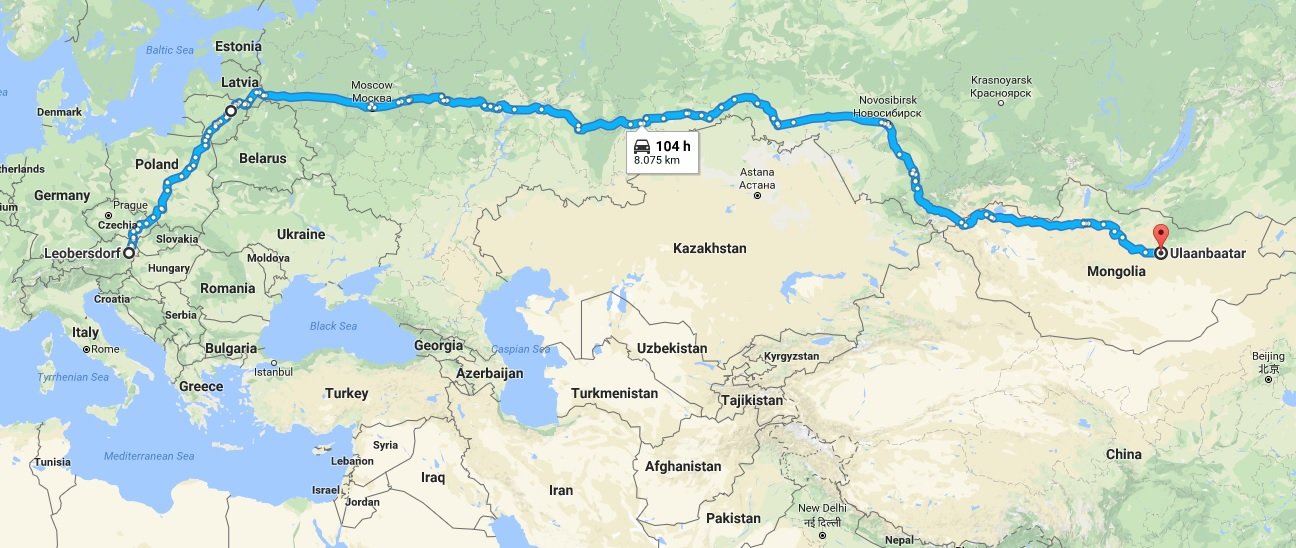 More than 8,000 kilometres lie between Leobersdorf, Lower Austria and Ulaanbaatar, Mongolia. Picture by Google Maps
What was the biggest challenge on this road trip?
We had some issues at the Russian border, as the car was not licensed under our names, but under the name Tschingis Koarl, which is the name of our club. So there was no Tschingis Koarl in the car. We had to drive to the border several times, get a lot of paperwork done and make a lot of phone calls to eventually make it across the border.
(If you speak German, you can find the whole story in three parts on Tschingis Koarl's travel blog: Part 1, part 2, and – spoiler alert! – the happy ending in part 3.)
Was there a moment in which you thought, "alright, sod it, let's go home"?
Not for me. But one of my friends did say that once. That was at the Russian border. I just said, "hey, it doesn't matter, we've still got some options to try." I honestly had my doubts that we'd make it to Russia. They jangled our nerves – particularly the night we had to sleep at the cargo terminal. But giving up was not an option.
What was the big highlight of the trip?
The whole journey was awesome. I couldn't pick just one highlight. My prejudices towards Russians have vanished: The people there are friendly and eager to help, even if you don't understand what they are saying. Mongolia is also an incredible country – you drive across this mountain pass and the main road is just made up of crushed stones, which even goes through rivers. There are many roadworks in Mongolia now, so I guess there'll be a motorway soon. However, travelling along this crushed stone road decelerated our journey – and we saw a lot of the country. After the first five kilometres, both shock absorbers at the rear were broken. But at least crossing the Russian-Mongolian border went smoothly – although we had to wait for quite a long time. The border has opening times – and if you don't manage to cross it in time, you'll have to sleep there and try again the next day.
Will you return to Ulaanbaatar?
That's not out of the question.
What would you recommend people, who would like to do something extraordinary such as this kind of road trip, but who are still indecisive or worrying about what others would say?
They should have patience and a talent to improvise – and they should be ready to throw their plans overboard and just do it.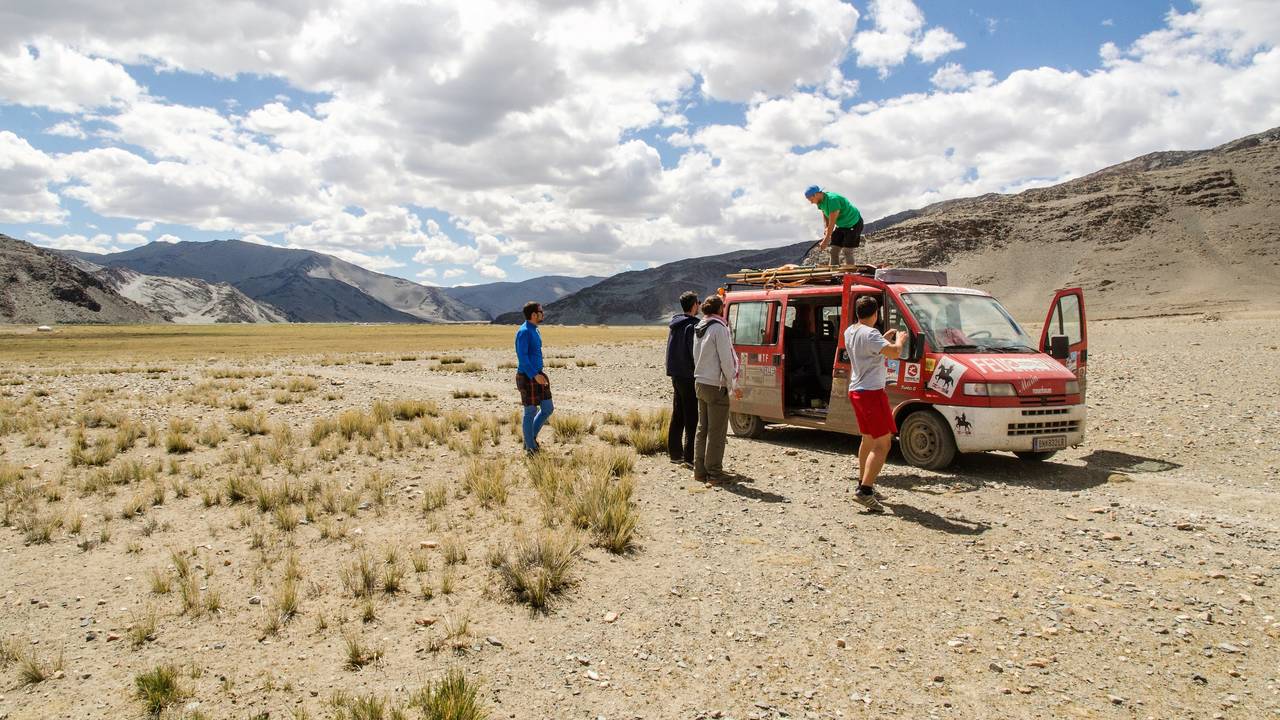 Tschingis Koarl made it to Mongolia in an old fire brigade car. Picture by Tschingis Koarl
"Freedom is driving around"
Please complete the following seven sentences spontaneously.
Freedom is… driving around, obviously.
I'm inspired by… chance. I'm not a big planner. If I hear about something and I like it, I'll just try it.
The world is… beautiful, huge, and not that scary once you dare to delve into it.
Travelling is… It has always been a big wish to go on a lot of business trips. Travelling is a dream.
My biggest challenge so far… was bureaucracy – the Russian and the Mongolian one. And finding a sense in the things we do in life.
Friendship is… what makes life worth living.
My golden rule is… I'm flexible. We always change based on our experiences.
Thank you, Andi, for the interview!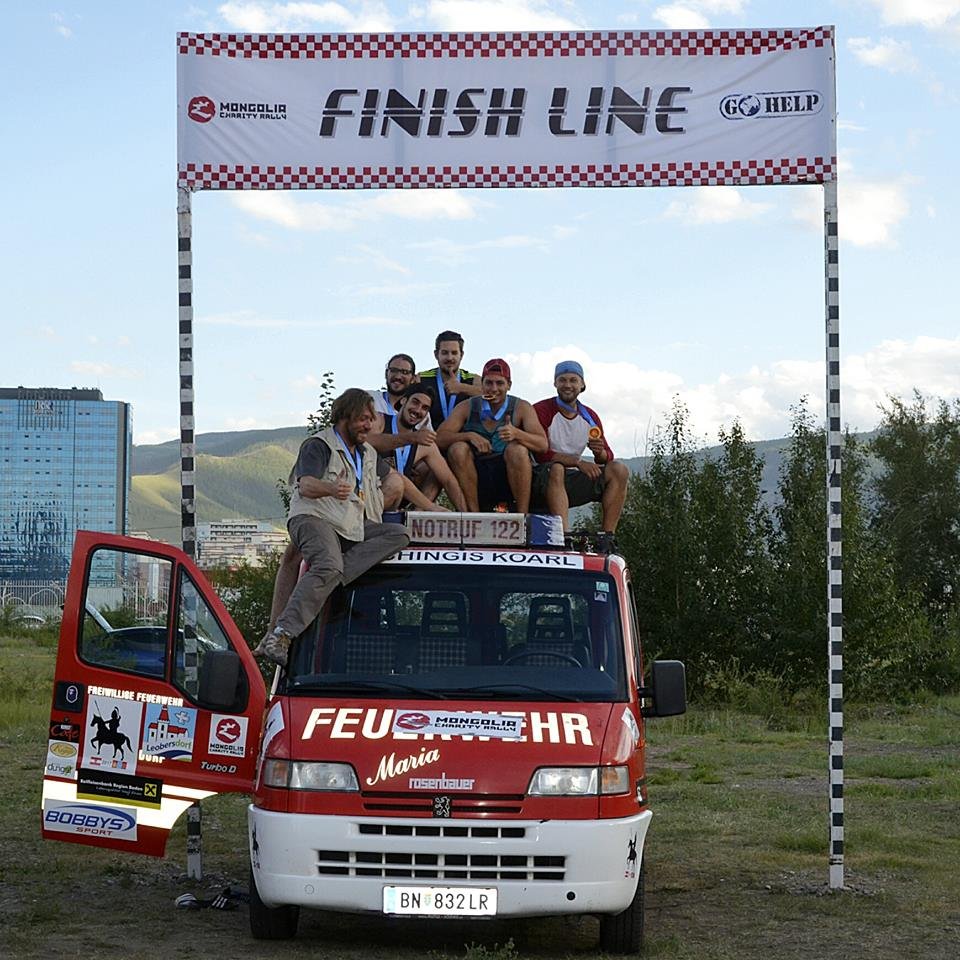 They made it! The finish line of the Mongolia Charity Rally in Ulaanbaatar is crossed. Picture by Tschingis Koarl