Manuel Marinelli – The Young Man and The Sea
Marine biologist Manuel Marinelli swapped the Alpine landscape of his Carinthian home for a life on the seven seas. With his research vessel Independence, he gives scientists the opportunity to put their scientific projects into practice. His goal is to conserve marine habitats for the living beings that dwell in it. For his childhood dream, he sacrifices holidays and other amenities – and he found his personal paradise on Earth in Papua New Guinea. In this interview, he tells us about microplastics and how he paddled along the Danube proving that those small particles are flushed into the oceans even by the inhabitants of inlands.
About Manuel
Name: Manuel Marinelli
Born in: 1983
Job: Ummm… Marine biologist, diver, skipper on the Independence, deckhand,…
How chasing a rubber duck led to interesting insights
Hi Manuel! First of all thanks for taking time for this interview.
With Greenpeace, you have already worked on a ship – now you're sailing the seven seas with your Project Manaia. How did that come about? Was that your childhood dream?
The dream was born when I was a child… We were on holidays in Sri Lanka to visit one of my uncles. So at the age of five, I first saw corals and I said I was going to have some kind of job underwater. I was belittled for that for about 15 years – well, of course: the marine biologist from Austria, sure – but it's been working out fine so far 😀
Project Manaia gives scientists the opportunity to use a research vessel at comparably low costs. That must have taken a lot of effort from your side – a bit of a paper chase, but also financially. How did you get the idea to launch such a project?
I – or, in fact, we as friends from university were involved too – had the idea while we were studying marine biology in Kiel. It was so hard to get onto a research vessel, with five-digit costs per day just to rent those ships.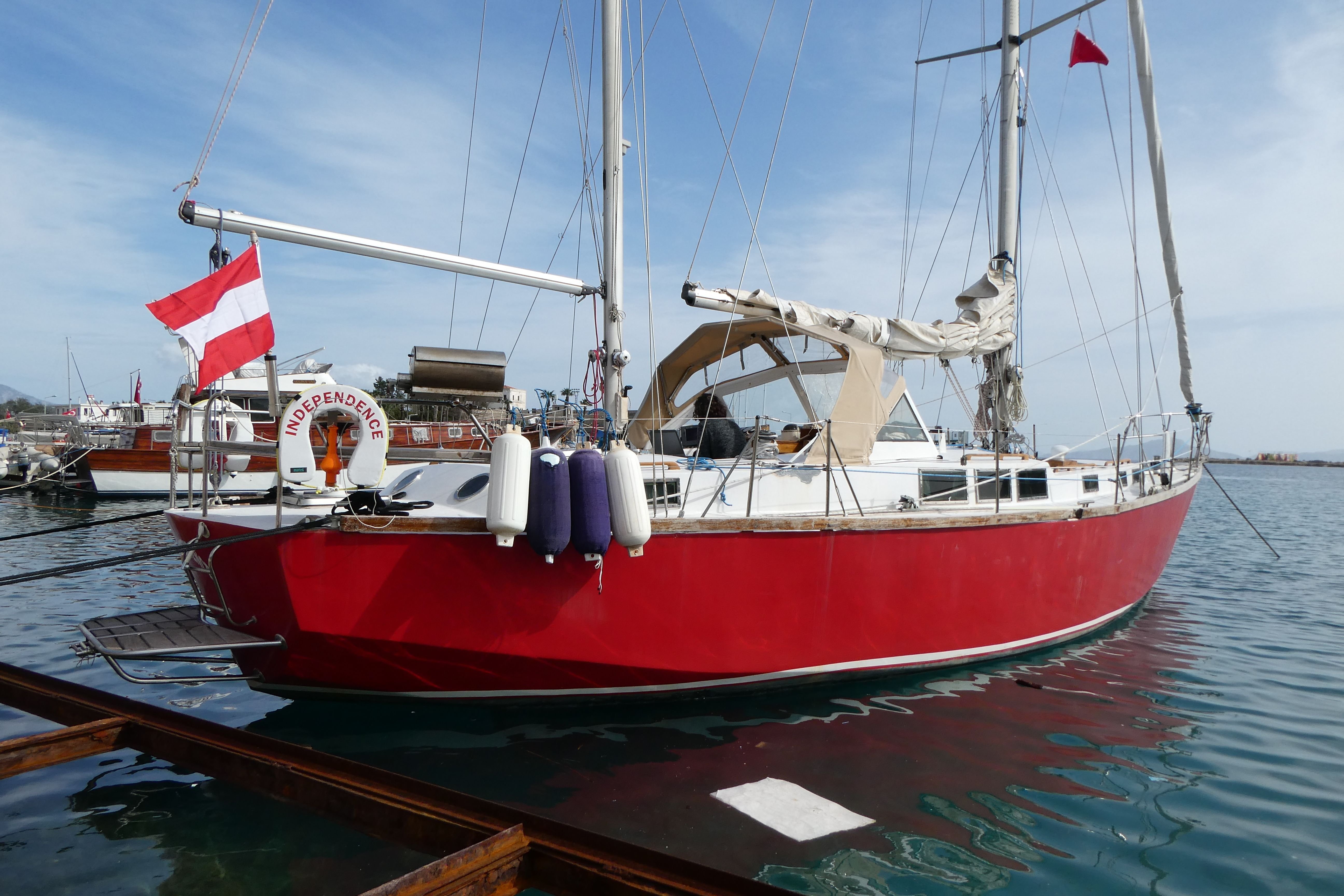 Research vessels are usually fairly expensive. Project Manaia aims to keep the costs for scientists at a minimum. Picture by Project Manaia
For many things such as plankton or microplastics, it would be only logical to use a small boat. We can now offer a small lab with microscopes, stereomicroscopes, and even a small ROV (an underwater robot, which can dive down to 200 metres). Depending on what else may be needed, we also have video equipment for under and above the water – and even from the air. This is a fantastic way of mapping reefs and seagrass meadows!
You spend most of the year at sea. Where are you right now and what are you working on?
I'm currently in Turkey, unfortunately on land. We're currently doing some maintenance work but in mid-April, we will be back in the water. We'll be off to Crete to help to build a conservation area, after that, we are planning to make a little documentary about invasive species in the Mediterranean. Pufferfish are real pests there, as there are no predators that will control their population. There's a lot more planned so for updates, you can check our YouTube channel and our website!
Is there anything you miss when you're on the boat for months and months?
Do I miss anything… well, yes and no. I have to admit that I miss the taste of tap water. Desalted water is just… not that great. TV, radio, advertisements, shopping, etc. have never really been my big passions so I don't have a problem to live without them.
What is your favourite place in the world and why?
I found my personal paradise in Papua New Guinea. I visited a village there about seven years ago, which was pretty close to my idea of what paradise must be like: Happy people, fruits growing everywhere, small canoes with sails, no electricity, no internet or anything. Just a village in the jungle, on the shore with a freshwater lagoon with a white sandy beach… That just can't be beat!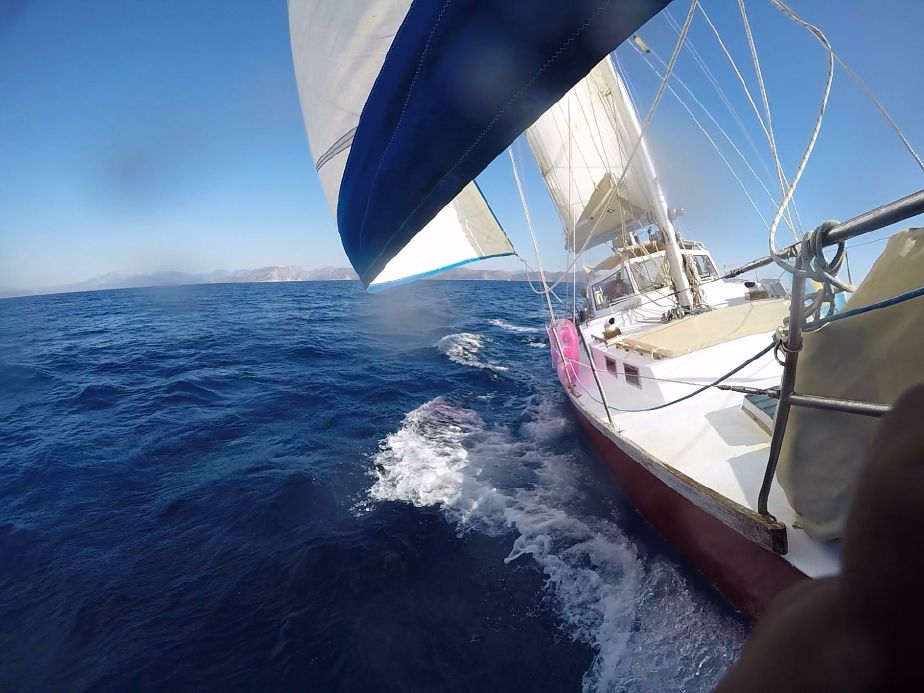 A life at sea was Manuel's childhood dream. He made it come true and does what he can to protect the environment. Photo by Project Manaia
What have been the most shocking moments for you so far?
I was particularly shocked by people's – or even groups' – attitude, ignorance, and communication problems. In most cases, it's impossible to explain to a large fishing company – and even to small fishers – that their children won't be able to fish anything if they keep fishing this much now. We just don't seem to have it in ourselves to think ahead further than maybe one generation – if that much.
Or a more recent example: We published an advert saying we'd offer to lend our ship Independence to people who have good project ideas. We only asked to have the running costs covered. The reactions were usually, 'Where's the catch?' or 'How do you make a profit from that?' We also got offers like, 'We'd like to go on a sailing trip in the Caribbean.' That really wasn't helpful. Fortunately, there is still those other five per cent, who actually have great projects going on and who also ask us for cooperation!
What are the moments you live for out there?
To me, it's all about the small and the big moments of success! Even if the struggle takes years – in the end, unless you give up, you'll win. Our last big success as Project Manaia was that we established a conservation zone in Myanmar. We built the first coral garden in the Andaman Sea – the first coral breeding place in this area. This makes us pioneers for a whole sea regarding the conservation of the coral population. This is something one can be quite happy about and raise our beer glasses to.
What have been the biggest challenges for you and your project so far?
Two things really: On the one hand, financing the project is always a big issue – but one that can be overcome by a lot of resilience and by sacrificing free time, holidays, property, and so on. 95 % of Project Manaia were financed by my own – not particularly high – salary from working for an NGO.
And on the other hand, there's, of course, the big challenge of staying convincing. Of course I believe in the things I do – otherwise, I wouldn't be here! And very often it's easy to find followers and acceptance. What's important is to find the critics and talk to them. If you can convince them, you can leap forward massively. Unfortunately, those people are the ones that have a thousand reasons in mind why they think you're doing something really stupid. So think, breathe, respond, and carry on!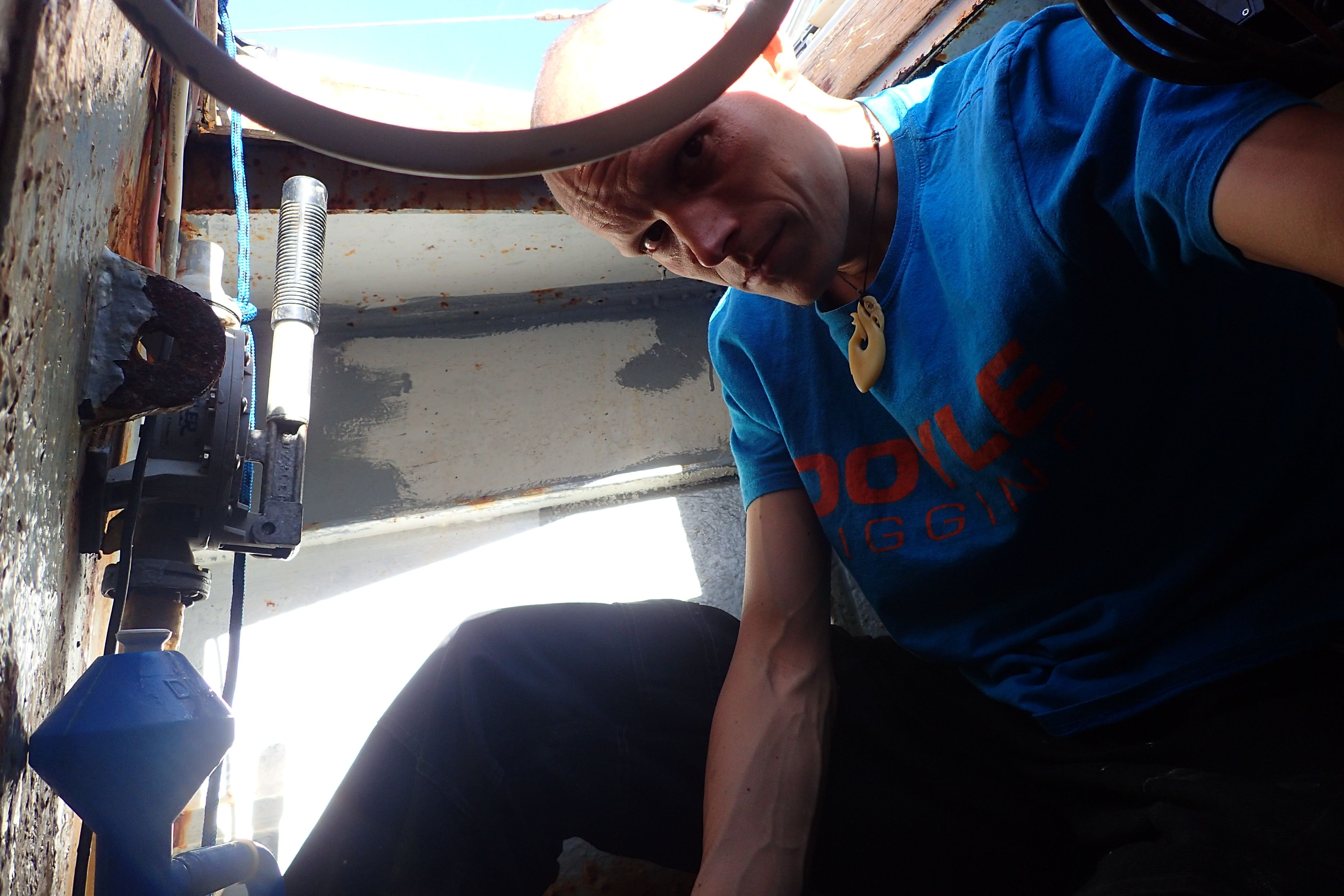 Carrying on is Manuel's motto. Picture by Project Manaia
In your Vlog INDEPENDENCE for RESEARCH at SEA- PROJECT MANAIA you give updates about the ship and where you are at the moment on a regular basis. You have also done a TEDx Talk. Would you say that in the area of marine biology a sufficient amount of information is already being passed on to the public?
There's certainly more and more of that happening. I wouldn't say it's enough, though. There are thousands of topics that need to be talked about and that people should be aware of. One of those would be microplastics, which finds its way back into our bodies through marine salt and fish. Or that tuna and salmon are, in fact, unhealthy food sources. Fortunately we have access to a vast amount of information these days – videos, blogs – but unfortunately, a lot of this is just stuff the world doesn't need – or at least it is in my opinion. The art of it is to find the right filters and get informed in the right way.
Austria – like many other countries – does not have direct access to the sea. What do you respond if someone says that as the inhabitant of an inland, they are unable to protect the sea?
Just because you don't have the nice sea view doesn't mean you don't have an influence on it! Austrians consume sea fish just like everyone else does. Demand regulates the production! Also, our behaviour as consumers is crucial when it comes to plastics: Single-use packaging from Austria makes it all the way to the sea. To prove that, a friend and I paddled after a rubber duck from Vienna all the way to the Black Sea.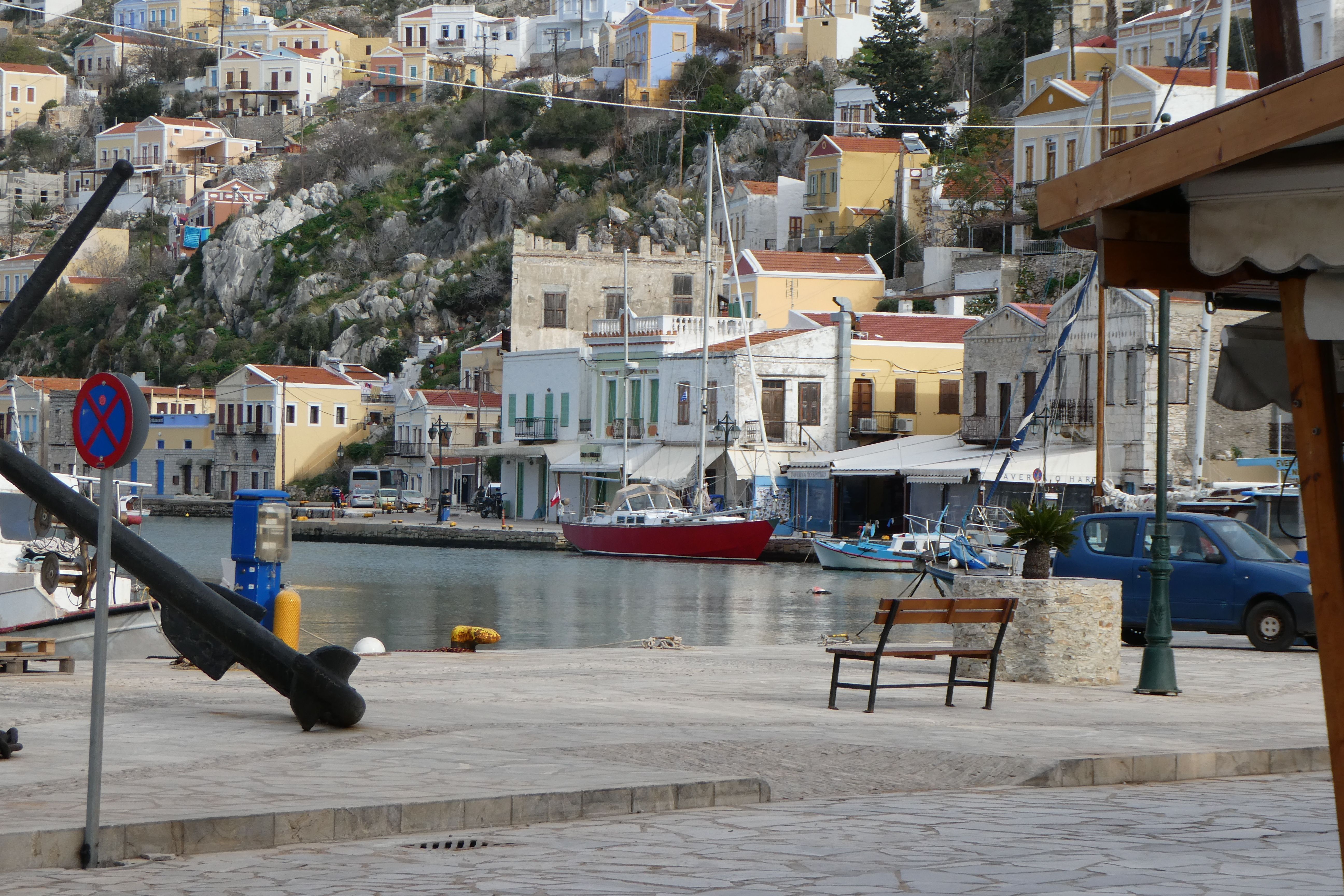 Currently, repairs are being made but Manuel and the Independence are soon back on the water. Picture by Project Manaia
Seeing how much you do, one gets the impression that you never seem to run out of power and energy. Where do you get your energy and ideas from? And do you ever go on holidays?
I must admit that the idea of going on holidays sounds tempting – I'd love to have this luxury. (If a travel agent is reading this: Close to the sea, quiet, warm and a comfortable place to sleep would be amazing!) Unfortunately, Project Manaia is currently my holiday project. I work for Greenpeace to pay my bills and keep the Project running. And the successes can already be seen! So this is what gives me the energy to keep going.
That and messages from people who just want to help. We've got our Patreon page through which everyone can support us. Only last week a friend of mine started sending us ten Euros per month, although I know he's always flat broke. When I asked him why he did that, he just said, "I can see exactly what you're doing with the money – what you buy, what you're doing at the moment, and I can see that something is happening. If I donate my money to Greenpeace, WWF or others, I sign a contract and get a Christmas card." Other people – strangers- sent us a packet full of tools because they saw in one of the videos that we didn't have a lot. Moments and actions like these energise me!
What is your goal in life – or, to put it in a different way: What do you want to have reached by the end of your life?
I want to be able to look into my (grand) kids' eyes when they ask why the world is the way it is. Even though I hope that the world will be beautiful and healthy, I fear we're actually on a downhill ride. In the worst case, I can at least say that I have tried everything I could. And that's more than most will have to say for themselves.
"The sea is my home."
In the final part of this interview, I'd like you to finish the following seven sentences spontaneously:
Nature is… untouched.
To me, the sea is… home.
If I could start over, I would… hopefully make the same mistakes again.
Love is… beautiful.
I'm driven by… hope.
I love what I do because… the possible success is worth the effort.
My golden rule is… don't make the same mistake a second time. There are too many of them.
You'd like to support Manuel Marinelli and his Project Manaia explore and conserve the sea? Here's what you can do:
Share the latest Vlog posts by Project Manaia.
You've got a few Dollars / Euros / whatever your currency is to spare? On Patreon you get the opportunity to do so! A few nice surprises are waiting for donators – such as spending a week with Manuel's team on the Independence.

Logo by Project Manaia