Opening up a whole new world to children
Social worker Maria Hetzer is helping Belarusian children affected by the non-design-basis accident in Chornobyl. She organises holidays for the children: they will spend three weeks far away from the affected areas with Austrian host families. In this interview, she talks about the reason she is working on this project and about her impressions of Belarus, which she visits up to five times per year.
About Maria
Name: Maria Hetzer
Born in: 1959
Job: Project leader, social worker
Country: (Lower) Austria
New possibilities and a break for the immune system
First of all, thank you for taking the time for this interview. You organise holidays for Belarusian children from the areas affected by the Chornobyl disaster. How did you come to do this?
I didn't come up with the project, I just took it over. The contacts between Lower Austria and the then still young republic of Belarus had already existed for 25 years. A Lower Austrian association facilitated the economic and cultural contacts between Lower Austria and Belarus. After the catastrophe of Chornobyl, they started organising holidays for children from Belarus in Lower Austria.
The relationship between Lower Austria and the former Soviet Republic of Belarus changed after the Soviet Union dissolved. The head of the association, a high-ranking official, retired and wanted to maintain the contacts. I didn't take over the whole association but I volunteered to keep the holiday project for the children running. The association was dissolved in 1993. I've been working on the children's project with my heart and my soul ever since. I rebuilt it and changed it several times to adapt it to personal, political, and economic situations.
The Chornobyl disaster happened 32 years ago. The children who are now coming to Austria weren't born back then. Is the project still as important as it was in 1993?
The consequences of the nuclear disaster of Chornobyl are still visible today. Some kinds of radiation are not effective anymore – but others are. Therefore, it is still important, particularly for children living in the affected regions, to give the immune system a break for a couple of weeks by going somewhere else for a while. The success of such a break is measurable: the body can get rid of radionuclides.
What are the challenges your face with your project?
The biggest challenge is to find a way to cooperate with the Belarusian system, which allows me to help as much as I can without making too many compromises. It's a constant balance between two contrary worlds.
What have been the most wonderful moments so far?
Wonderful moments happen there, in Belarus, when mothers, father, grandmothers, and all relatives thank us with tears in their eyes. Or when former host children, who have grown up, thank me and tell me how their holidays have given them a lot of opportunities do to things. As children they could not comprehend what happened – but they do as adults. The most wonderful moments are moments of thankfulness – even if they only happen a couple of years later.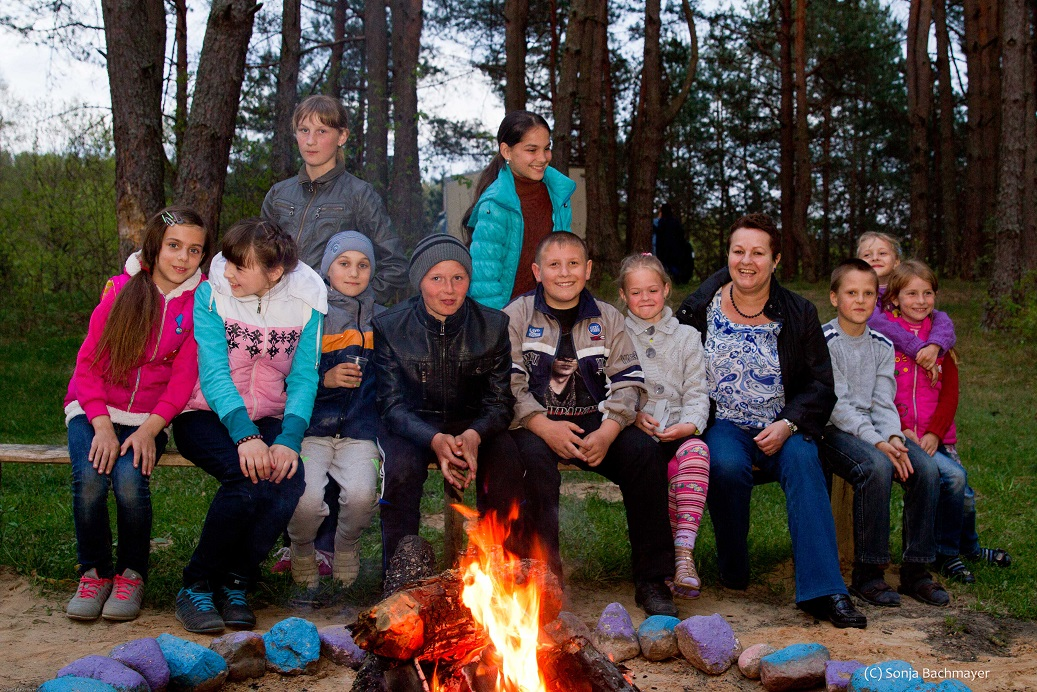 Staying with host families and making new friends are important. Picture by Belarus-Kinder
Communication is very often limited, as only a few Austrian host families speak Russian or Belarusian. What sort of feedback do you get from the host families?
The host families tell me that it is highly important for their own children to find out that not all children grow up in a wealthy country. Particularly the Belarusian children from small, remote villages are very modest and thankful for things that Austrian children take for granted. Regarding everyday life, there isn't much of a change for the host families, as they already have a certain attitude towards life, which makes them apply for the project. Those families have been pre-selected and show a high level of social commitment.
You also organise for the host families to visit Belarus. Do many host families take the opportunity to go there and what do they say about this journey?
Only a small fraction of the host families goes to Belarus with me. In the past years, there were usually about 20 to 25 persons travelling with me. But those who do dare to go on this adventure are highly impressed by the people's hospitality – and they are surprised by the positive attitude of the Belarusians, as well as by the beauty of the country – and the capital Minsk, because in Austria, you hear very few positive things about Belarus. The country has changed for the better in the past 20 years. I go to the villages and also to Minsk two to five times per year so I have been able to see this for myself. The Austrian media coverage about Belarus is usually quite negative, very often false and creates a false image.
When you think back to the first time to travelled to Belarus – what were your impressions then?
When I first went to Belarus, I only saw Minsk. If you've only seen Minsk, you can't say you really got to know Belarus. This is only the case if you also travel to villages far away from Minsk, as the difference between the capital and the countryside is tremendous. In some regions, the difference equals decades of development. But this is not true for all aspects: all youngsters, even those in the rural areas, own a smartphone these days. A cheap one from China. The small piece of land they've got is still ploughed with horsepower, though. The biggest status symbols in villages are definitely flat-screen TVs – even if there's no running water in the house and even if they have an outhouse in their gardens instead of a proper toilet.
I have always liked my stays in Belarus, particularly in the villages, as they bring me very close to my own childhood. Minsk, however, has always been a metropolis like many other central European capitals.
Getting a sense of basic trust, power, and potentials from families
Please complete the following seven sentences spontaneously.
Belarus has… become my second home in the past 25 years. I enjoy being there and have a lot of friends in Belarus.
Austria is… my home country.
Host families are… very special families, who have one thing in common: not necessarily wealth but a good heart and a particularly social attitude.
Love is… an indescribable, endless, and positive force that makes the impossible possible, the unsolvable solvable, and which leads to surprising powers.
Family is… a place of security, from which one can get a sense of basic trust, power, and potentials. Having a loving family when one is young gives a person power and energy for the rest of his or her life.
I love what I do because… I can use my talents and potentials for the good of the affected children and their families.
My golden rule is… to be always true to oneself. I always listen to my inner voice.
Thank you for the interview, Maria!
---
Wanted: sponsors and host families!
You'd like to support the project? Mrs Hetzer is still looking for host families – but also for people, who would like to offer financial support for the project. Every Euro counts! For further information visit the project's web page (German-language only): www.belarus-kinder.net