Wolfgang Ellmerer, tonal artist
Atmospheric sounds, hard metal, industrial music – Wolfgang Ellmerer, also known as Adzix, from Tirol is an artist, who doesn't fit into just one scheme. Wolfgang doesn't only write his own music – he also produces it, sings, arranges, creates layouts, does the artwork – and he writes the books for this music videos, directs them, cuts them, and produces them. In addition to that, he has made inspired cover versions of songs like Wishes (original song by Beach House).
About Wolfgang
Name: Wolfgang Ellmerer
Born in: 1978
Job: Something related to media
Country: Austria
Enough self-reflection to accept that projects have to be finished
Hi Wolfgang! First of all thanks for taking the time for this interview.
Ahoi Theo! It's my pleasure. I was very happy that you invited me to do this interview.
One thing I've been wondering about: You make music videos, write your own music, record it, create amazing covers of other artists' songs and you do all the artwork by yourself – where do you get all the ideas and how did you learn to do all these things?
Ideas come in so many ways – sometimes even synaesthetically: I see a drawing and it sounds to me like some chords, that I sketch on my guitar or piano. Then I elaborate on it further on my computer. Or new equipment – that also gives me new impulses.
The technical know-how develops in parallel. This has to do with my desire to be able to do everything: I just sit down with a reference book, guideline – or tutorial videos and I start learning and trying out those things, like how to cut and edit a video, how to produce an album, what is a prepress… I can never get enough of learning new thing. It's wonderful that there are so many geniuses out there, who share their knowledge.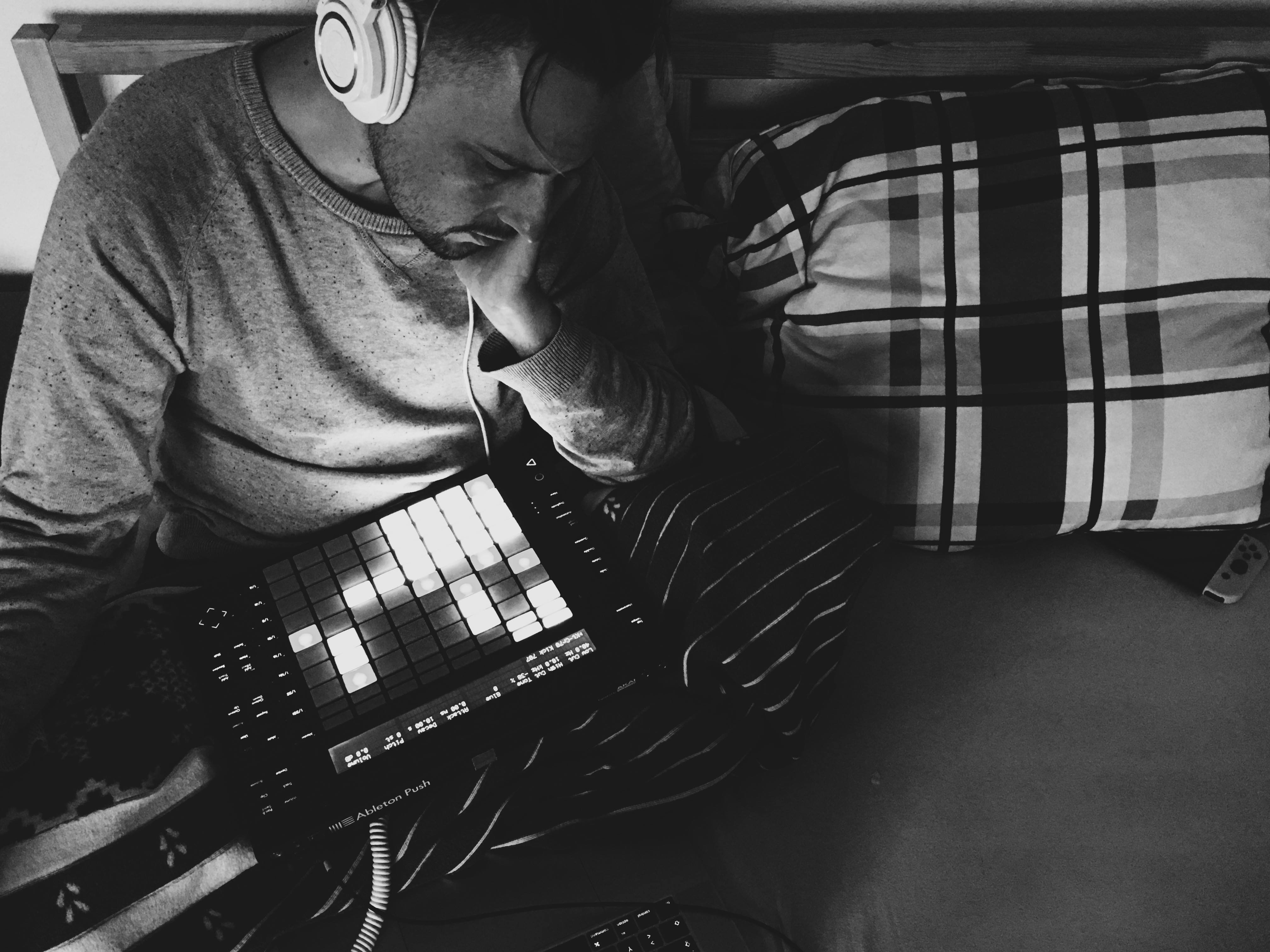 A multi-talented mind at work: Wolfgang Ellmerer composes, (re-)mixes, produces his music. Not only a jack but also a master of all trades. Picture by Wolfgang Ellmerer
Adzix's music feels dreamily melancholic, at times industrial – but always very atmospheric. Being the singer of the band Kammerflimmern you dabbled into metal, which is quite upfront. Which of these projects reflects the real Wolfgang Ellmerer?
All of them, of course! 😊
The band, which unfortunately doesn't exist anymore, was a great outlet for the brute sounds, energy, and a very positive kind of aggression. It felt liberating to make this music. Adzix, on the other hand, is a big playground for all sorts of genres. Originally, industrial and electro were the starting points. Since then, it has been tinted with some pop. I hope that the melancholic and atmospheric part will always remain a part of it, though.
I don't feel like my music has to be pinpointed to just one genre. Today, I may like to do some black, hard EBM track – but the next week I might just as well love to do something with piano, strings, and reverberant vocals.
What is your earliest memory connected to music?
I remember sitting in the hallway in front of the kitchen in summer with a small radio, pushing the record button whenever a nice song was on the radio. Or listening to my first ever 80's metal records at my neighbour's, who was a few years older.
I only started making music when I was a teenager. Before that, I refused to learn how to play musical instruments. Stubborn boy. But then I started learning to play the guitar, the drums, and the bass – whatever I could find in the rehearsal rooms.
What music has influenced you so far?
The hardest part is to give you a (relatively) short answer! There is a lot of great music that I find highly inspiring.
Velvet Acid Christ – Church of Acid
A classic, that I keep mentioning. The album showed me how detailed and crazy electronic music can be.
Angelo Badalamenti – Twin Peaks Soundtrack
This sensational score gives me goosebumps and made me appreciate heavy melancholy in music.
Flying Lotus – Cosmogramma. I have never heard this kind of fusion of jazz, samples, electronic music, and live instrumentals – except maybe for Squarpusher. An acoustic trip.
Christa Lee -Welcome to the Fantasy Zone
A musician, who takes the songs and sounds from Sega's video game history and transforms them into her very own compositions, which put me – in a very unique way – into a pleasant state of melancholy. The music has influenced me, and the way she works with it is outstandingly creative.
Currently, I also enjoy listening to
Fazerdaze – Morningside
The Low Anthem – The Salt Doll Went to Measure the Depth of the Sea
Son Lux – Brighter Wounds
Wishes – a Beach House Cover by Wolfgang.
What was the first CD / record / tape that you bought for yourself? Do you still enjoy listening to it?
Well, I'm not sure if I can answer this one because I simply don't remember precisely. One of my first records was definitely "Nach uns die Sintflut" – the 1988 live album by Die Ärzte. And I actually put this record on this year – after not having listened to it for many, many years.
Were you always convinced that it was your destiny to do something creative?
No, absolutely not. Because for a very long time, I didn't rely on my skills. But at some point in my life, it became clear that there is no alternative. No matter if there was going to be an audience or not – I had to transport my ideas into a medium and publish it or I was going to burst. 😉
I've always seen you as an immensely creative person, who is constantly full of ideas. The products are always perfect. Do you see yourself as a perfectionist?
Ouch. This question makes me feel a bit uneasy. First of all, I must say that the product is of course never perfect. In my earlier work, I always focused on the imperfections and criticised myself for them constantly. However, I have learned to be more relaxed about them and I have learned to find some of the stuff I do pretty good.
Secondly: Yes. I'm a total perfectionist. But I am a perfectionist who reflects on himself thoroughly enough to accept that projects have to be finished. If that weren't the case, I'd still be working on the songs of the EP Skyscraperdreams.
I think it is good and important to set oneself high-quality standards. It shows the love and dedication to one's work. But, as I said, small imperfections are a part of it – just like deadlines.
Do you sometimes feel like all your creativity has been used up? How do you deal with such moments?
Yes, I know the feeling of being exhausted. I sometimes experience it. It's a mixture of the fear that I might never have an idea that is at least new to myself – or that my ideas are just random and replaceable.
I have developed different strategies to deal with it: Sometimes I just take a break to get rid of all the self-imposed pressure and wait for the inspiration to come back by itself. Or I set myself small tasks. I sometimes set myself a time limit of two hours, pick an old jazz song and make a sample of it, play around with it, create a beat – but whatever happens, I have to stick to the time limit. The result, whatever it may be, gets into the archive. But that way, a new seed is planted into my head for the next project…
Sometimes I just buy a new record to give me new creative input. Then I can also ruthlessly steal good ideas – erm, I mean, listen to find new inspiration. That also helps.
Music from his EP Skyscraperdreams
In 2017, you released your EP Skyscraperdreams. What are your plans for 2018? Do you have anything in mind?
The EP was, after a long hiatus, an important step to make and release music again. It led to my first solo concerts. It's a weird feeling when there's no band around you… But at the same time, it was an extreme rush of adrenaline.I'm currently planning to release two EPs, which will hopefully see the digital light of day this spring: Something new by Adzix – and a second project under a different name. The second project will be in German – that's all I'd like to reveal for now. You know you should never cross bridges until you come to them. And I know only too well how slow I can be when it comes to releasing my music.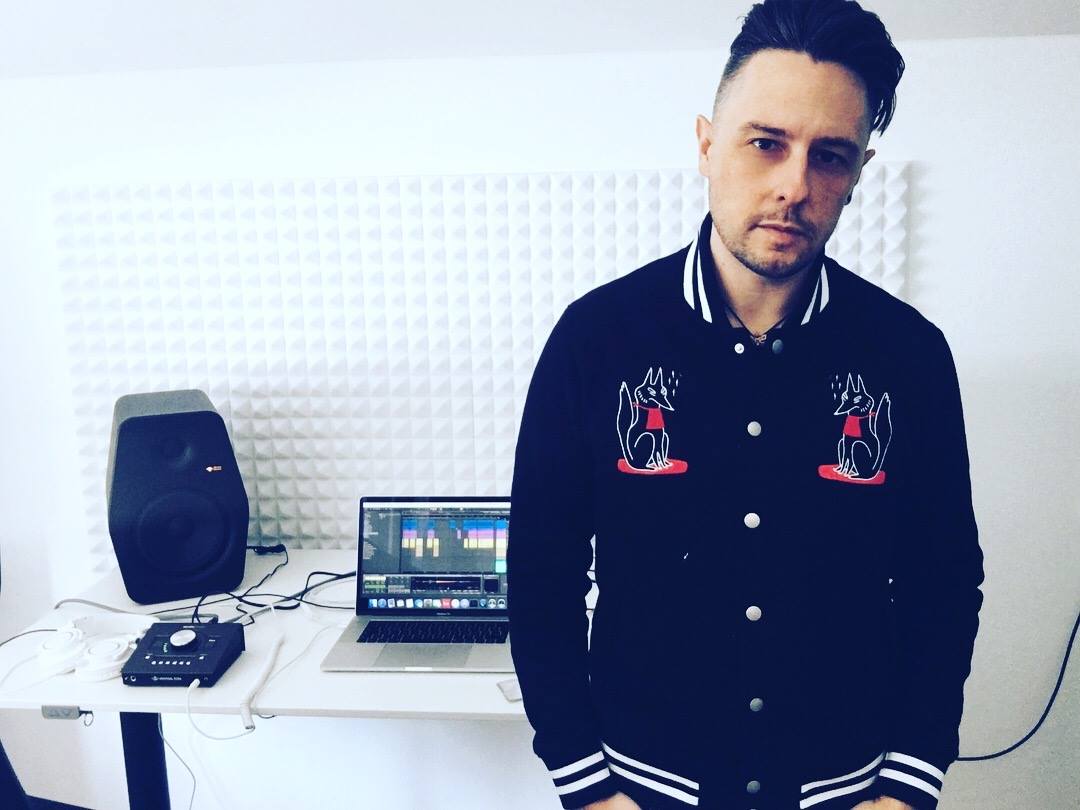 Taking a break from work in his studio. Picture by Wolfgang Ellmerer
Taking the lead in a battle with myself
In the final part of this interview, I'd like you to finish the following seven sentences spontaneously:
To me, music is… life. Joy. Energy. Sharing.
My music is… a yearning microcosm filled with details.
If I could start over, I would… travel more.
Love is… I can only love Mappe (that only makes sense to myself, I guess 😊)
My biggest challenge so far… was fighting a battle with myself, in which I eventually took the lead.
I love what I do because… it makes me content and gives me balance.
My golden rule is… treat others the way you want to be treated.
Thank you for the interview!
If you'd like to listen to more of Wolfgang's work, you can find him on Soundcloud, Bandcamp, YouTube and of course Facebook.