Elisabeth Victoria Reisenhofer: Sci-Fi meets Musical and Handicraft
Musical theatre performer, singer-songwriter, piano maker, quality technician with a big furniture shop – and now the author of a science fiction book:
Elisabeth Victoria Reisenhofer has an immensely wide range of skills. She expresses her love for music with her electropop solo project Alice Abbeth and as one half of the singer-songwriter duo VanDa. The past couple of months, she devoted her time to her latest project: a science fiction mystery novel, which takes place in the Lower Austrian town Baden. In this interview, she talks about writing, her connection with music – and why it's absolutely legitimate to just bin a piece of hard work.
About Elisabeth Victoria
Name: Elisabeth Victoria Reisenhofer
Born in: 1985
Job: Quality technician, musical theatre performer, piano maker
Country: Austria
From Lower Austrian vineyards to the fight against machines
Hello Elisabeth! Thanks for taking time for the interview!
Thank you, Theo! It's my pleasure.
It is unusual for a trained musical theatre performer to turn into an author. You are currently working on your first science fiction novel. What's the story?
When I was a child, I loved to read and very early on, I started writing my own stories. Or, to be precise: I actually spent most of my years at school giving free rein to my imagination – much to the regret of the people around me. At some point, I couldn't catch up with everything I had to study, so I quit school and wanted to study musical theatre performance. However, at the age of 16, I wasn't allowed to attend the entrance exams yet. So I learned how to be a piano maker and studied musical theatre performance after I had finished my apprenticeship. I developed and finished one last story – a novel about vampires – during my studies at the conservatory. Then, I started to work.
Making a living off musical theatre never worked for me. I landed a few jobs – but nothing I could actually pay my bills from. So after two years, I decided to look for a secure job and do all the artistic stuff in my free time.
That I have come back to writing is the result of last year's journey to Japan. I met my old friend René there and he asked, "Where do you see yourself in ten years? On stage?" And I realised that it wasn't the stage. But I felt the desire to write again. The journey to Tokyo was the starting point for my novel.
Why did you choose science fiction?
It's not just science fiction, really. It's a mix of science fiction and mystery, peppered with fantasy elements and real-life conflicts. The story of my main character starts right here in Austria – not in the distant future but in 1999, just before he turns 15.
The novel covers everything that has always fascinated me: machines, strange worlds, and the abysmal depths of the human soul.
Can you tell your readers more about your first book? What will it be about?
Christopher Vallant is fifteen when he happens to land in the experiment zones of the operative core. Having spent his life in the vineyards of Baden, a town in Lower Austria, he now sees himself fighting for his survival in a world full of machines and constantly changing climate zones. After half a year, he manages to escape – but he cannot save his girlfriend Jen.
Having suppressed his memories for seventeen years, two children drag Chris back into his past, back into the zones – and back to Aarin, the old man with his icy blue eyes, who had already wanted to see him dead seventeen years ago.
How did you come up with the characters?
That's hard to pinpoint. It feels as though they're already there and I only have to describe them. And the further the story progresses and the more I go into the depths of the characters' personalities, the more rough edges they get. Just like they change if I decide to give them different names. It's exciting to watch. My detective was first called Keno Runea, now he's called Gerd Schachner. That changed everything 😀
Writing such a book is not a simple task – where do you get all the energy and motivation from?
Sitting down to write after all these years was a necessity I felt deep down inside. That was all the motivation I needed. And the energy – well, I generate it by writing. Stories can develop an immense momentum.
I've been working on the novel for about a year now – and I'm close to finishing the first complete draft. After writing about 200 pages of very first version, which was a completely different story, I binned it and started over.
Writing is a flowing process and I love every single phase of it. Of course, one sometimes discovers their boundaries – you get to a dead end and don't know what to do. But then I simply take two steps back and travel to my character's past. As soon as I've found the missing puzzle piece, the story continues quite easily.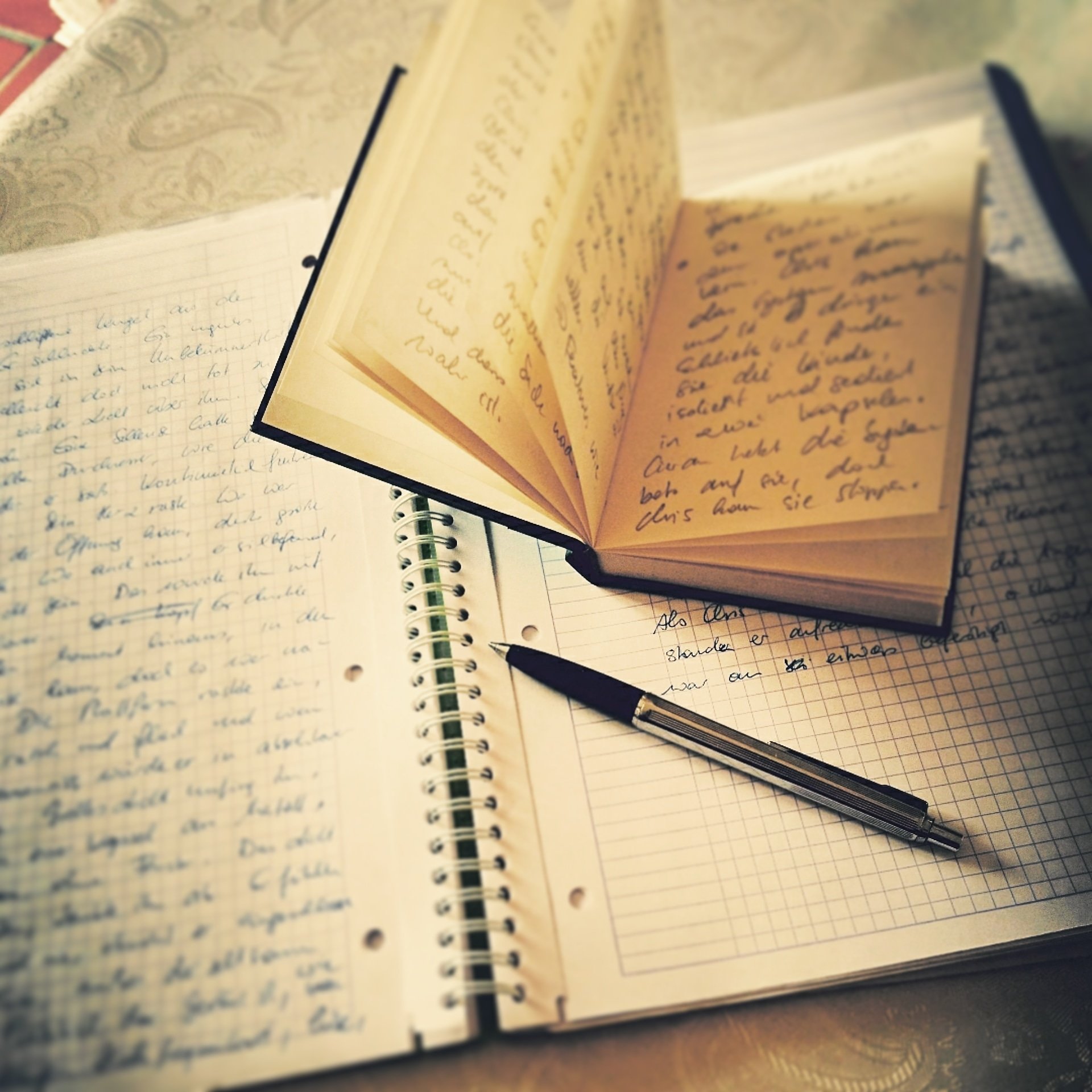 The young talent sometimes uses old-fashioned tools like a pen and a piece of paper. Picture by Elisabeth Victoria Reisenhofer
What is your advice for those who have their head full of ideas but don't know how to start writing? How do you structure your work?
I feel it's important to just start – no matter at which point of the story. As soon as you've written down your first idea, you can continue to develop the story. What is most important, in my opinion, is to draw a very precise picture of your characters. All persons, who are closely linked to the story need their background. Where do they come from, what is their story? That way, you create their personalities, the way they react and communicate. What is equally important is their environment, as it has an impact both on the characters and on the story itself.
What I also find highly important for the structure of my novel is a good computer programme for writers. I have bought Scrivener very early on and I love it so much. It gives me the opportunity to keep an overview of the story, the myriad of side plots, descriptions of characters and locations that I need. Without the programme, I would get stuck very easily. If you have a comprehensive idea, a good overview doesn't only save your nerves but also helps you avoid mistakes in the plot.
You're also part of the singer-songwriter duo VanDa. Do you draw your inspiration for music and your inspiration for writing from different sources?
No, the feeling is the same. Having said that, writing songs never came easily to me. Writing lyrics is a little less difficult. The other half of the band, Sizzy (Elisabeth Hirschhofer), is a real goddess of turning those lyrics into a song. The songs just bubble out of her – I really admire that. I love coming up with additional voices and refining the songs. This is how I play my part. But while I write one song, Sizzy can write ten. She's my heroine.
VanDa's album "2nd Chance" – recorded by Tom Chloupek / Kiwisound – is available on Amazon, iTunes, and Spotify.
You swapped the world of the stages for a world of cupboards and shelves. Does your bread-and-butter job in the furniture shop influence your creativity in any way?
Of course. Every bread-and-butter job does that somehow. On the one hand, things you experience throughout the day might somehow become a part of the story. On the other hand, time is an important factor. It's not always easy to be creative just by flipping a switch. But you have to if your time to be creative is limited. It helps to set goals. In my case, that is 2,000 words per day. I don't always manage to write 2,000 words and there are days when I just sit on the couch staring into nothingness because I'm exhausted. But I did establish the habit of at least sitting down after work to write down a couple of further ideas. It's important to keep writing.
How does one learn to jump in at the deep end?
Oh, that's an interesting question. You're asking that the right person 😀 I haven't learned this yet. I just managed to take myself by surprise, that's all. I agreed to do things weeks and months before they were going to happen just to find myself thinking, "WHY did I agree to do that?!" 😀 But those moments have always passed. And only a small minority of them ever ended in a disaster. 😉If you ask me, it always pays off to jump in at the deep end, though. Either it works perfectly fine and it makes you feel invincible – or it's alright and you can at least say you've tried. Or it is disastrous. But at least that usually makes for a good story.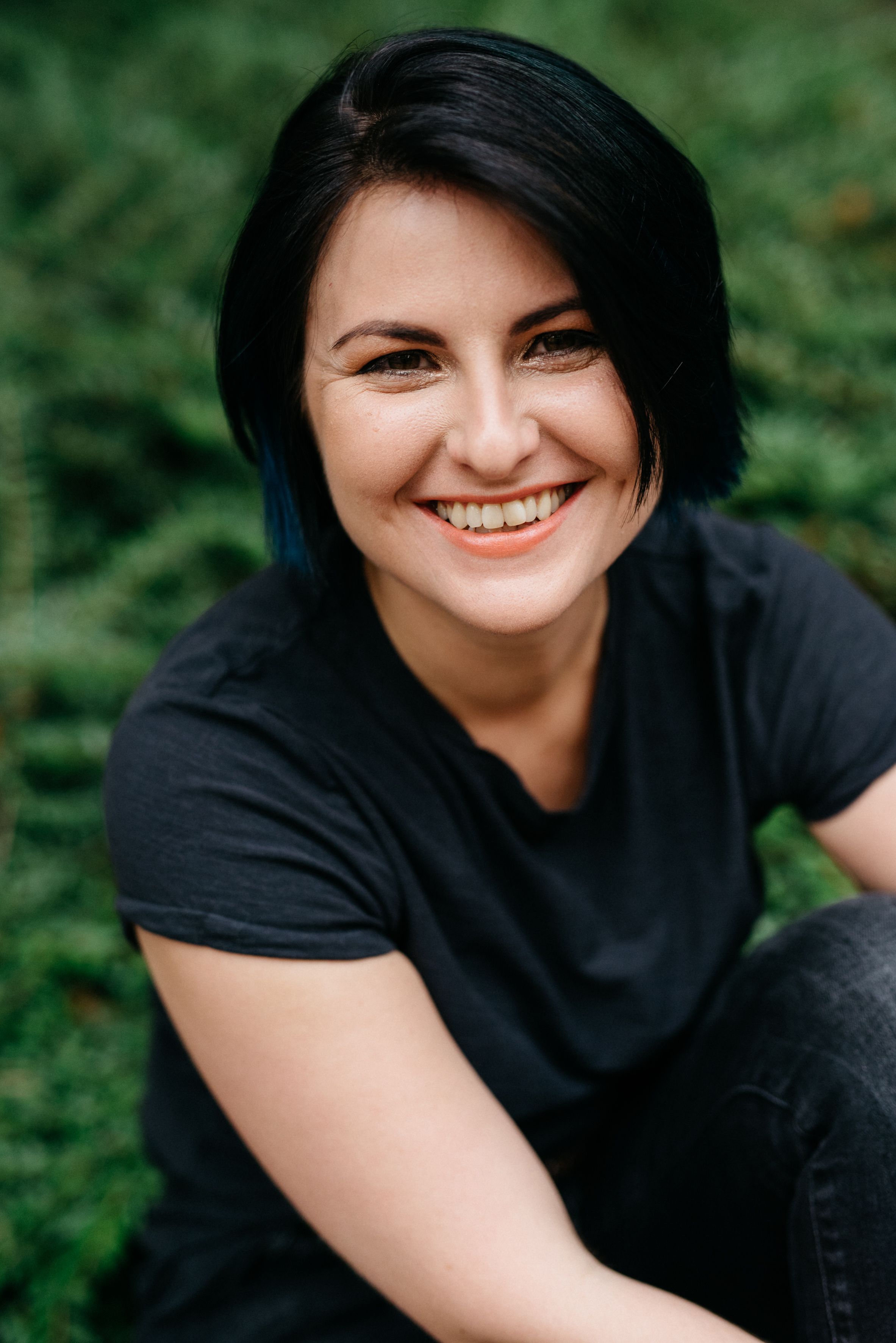 The young artist the way she is: a happy, creative, and loveable person one simply has to like and find interesting. Picture by Marie Bleyer
"Creativity is freedom"
In the final part of this interview, I'd like you to finish the following seven sentences spontaneously:
Creativity is… freedom.
The most important thing to me is… time – for my loved ones as well as for myself. And coffee. And food 😀
I'm inspired to write by… music, the weather, nature, conversations… Everything and everyone is an inspiration.
Love is… life.
My biggest challenge in life has been… to outsmart my own fear of failure. This challenge is probably going to accompany me throughout my entire life.
I love what I do because… it's a great way to express myself and be happy.
My golden rule is… to always look behind the façade. The second time you look, you usually see more interesting things.
Thank you, Elisabeth, for the interview!