Alex Frederickson, Light-Painter
Nurse, personnel manager, personal trainer, English teacher, book author, photographer, journalist – you name it, multi-talented Alex Frederickson has probably been there, done that, and even bought the T-shirt.  Alex is a strong woman, who stands up for those who need her without forgetting about her own dreams and working hard to make them come true. In her character portraits, she doesn't show empty husks. She portrays the souls of people around her. In this interview, I'm attempting to turn the tables. A character portrait of a unique woman.
About Alex
Name: Alex Frederickson
Born in: 1966
Job: Photographer and writer
Country: Austria
"I hope to have an impact on how beauty is defined."
First of all, thank you for taking the time to do this interview with me.
Thank you so much for asking me to take part. I'm already intrigued by the questions…
You are a writer and a photographer. Could you tell the readers about your current projects?
At any one time, I'm involved in several different projects of a varied nature. On the writing side, I'm currently working on a piece for a German magazine about a young Afghan refugee who returned to Afghanistan to avoid forced deportation. His application for asylum was unsuccessful, as was his appeal, and he simply didn't have the mental strength, or the funds, to fight a further legal battle in which his chances of success were 20-30% at best. I know him well and his story, typical of so many, is everything that is wrong with Austria's – and indeed Europe's – refugee policy. Why are we sending well-integrated, intelligent, hardworking people, many of whom are in the middle of an apprenticeship, back to a country where their chances of survival, never mind prosperity, are slim? Economically and morally, it makes no sense whatsoever. In my article, I will tell his story.
On the photography side, I'm working with two businesses – a commercial coffee machine company from Tirol and an upmarket café bar in Bramberg am Wildkogel, documenting their day-to-day business and customers. It's fascinating to get an inside look at what goes on and I must say I'm very impressed by their commitment to their clients and their work ethic. They still know how to have fun though; there are many laughs along the way. In addition, I'm about to launch a new service, photographing tourists here on holiday. The focus is on natural shots and events as they happen rather than a posed photo shoot. That's not what I'm about as a photographer – I'd much rather tell a story.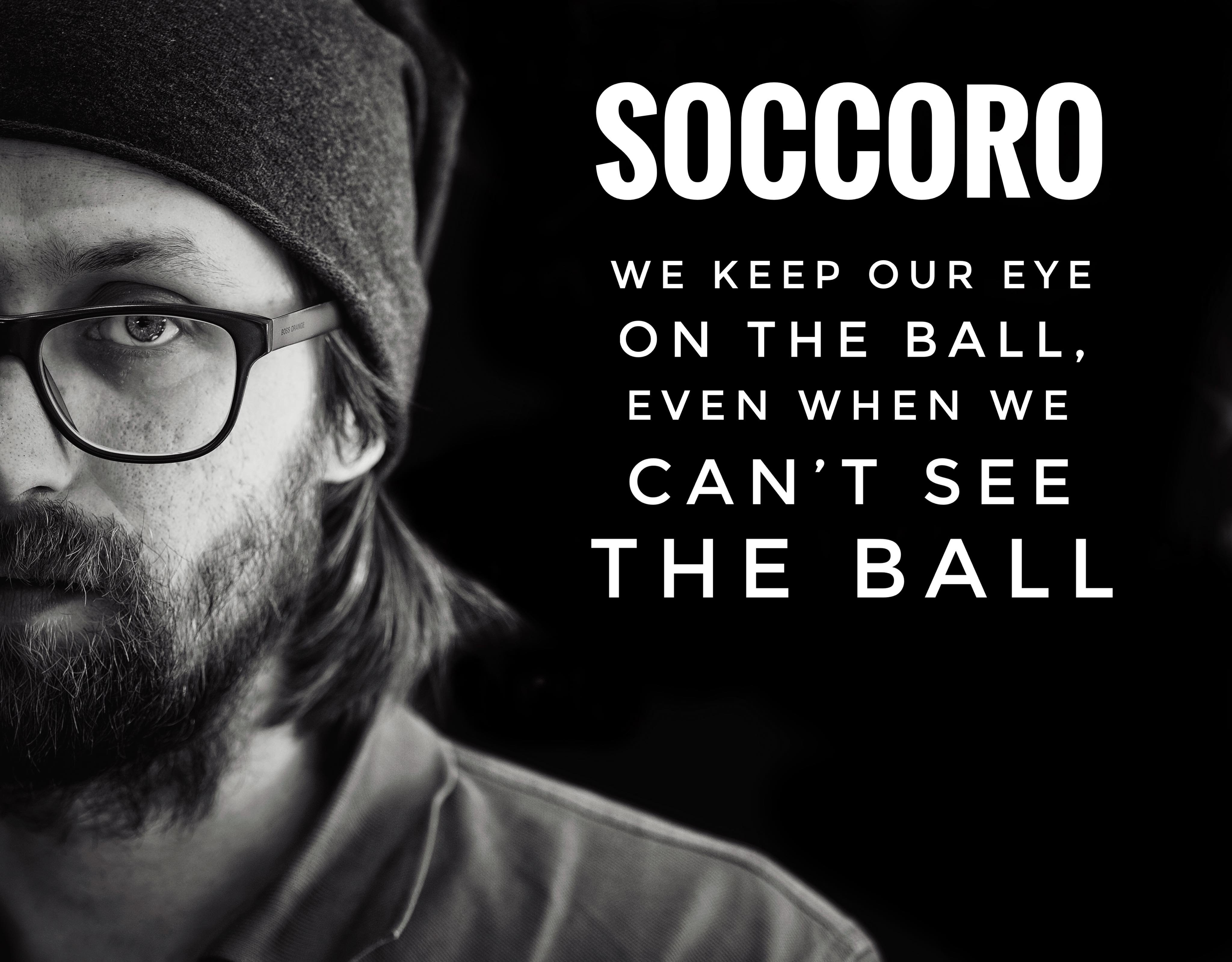 Artsy portrait meets creative advertising: A picture from the series for Soccoro. Picture by Alex Frederickson
Where do you draw the inspiration for your projects from?
As cheesy as it sounds, inspiration really is all around us but we are all so different, so what inspires me might not inspire you. People are central to everything I do.
You're currently doing character portraits of people you have never met. Please tell my readers more about the project – is it challenging? What have you learned from it so far? Where did you get the inspiration for this project?
When I began my photographic journey, I was absolutely determined not to get involved with portrait work. I thoroughly dislike the fact that 'society' attempts to dictate how we should look, behave, react and what we should watch, drive and wear. It's not real and does untold damage to our psyches! So, for a long time, I focused only on landscapes and nature and the beauty of the world around me. However, I am and have always been a people person and eventually, I found myself itching to get back to that. I just didn't know how.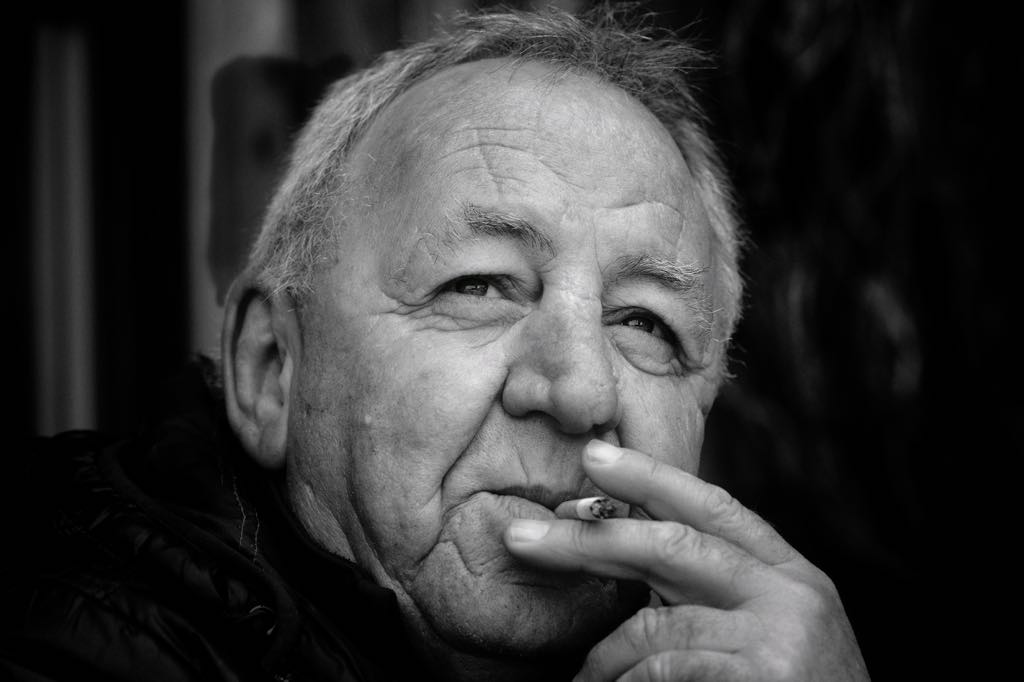 The face of this man reflects the story of his life. Picture by Alex Frederickson.
And then, at the beginning of this year, I discovered character portraits on Instagram. Such portraits differ from traditional portraits in one crucial respect: a character portrait photographer does not attempt to make his/her subject outwardly beautiful by editing outlines and other completely normal facial details, rather by attempting to capture and depict the essence of the person. The results so far have been astonishing – my clients are delighted and just last week one lady commented, "I feel like you've photographed my soul."
Such results, however, require time. I need to sit and just chat to my subject for as long as it takes to get a feel for them and their character. We all have an expression, a gesture, a look that is absolutely typical of who we are and that's one of the things I'm looking for. If friends and family are able to look at the finished portrait and immediately react with, 'Oh that's so Hans or so Edith', I know I've done what I set out to do.
One thing I've learned is that these portraits are not (yet) for everyone. There are still (far too) many who see their lines and blemishes as undesirable instead of a celebration of a life lived. I hope to have an impact on how beauty is defined. Every portrait I complete is a tiny step in the right direction.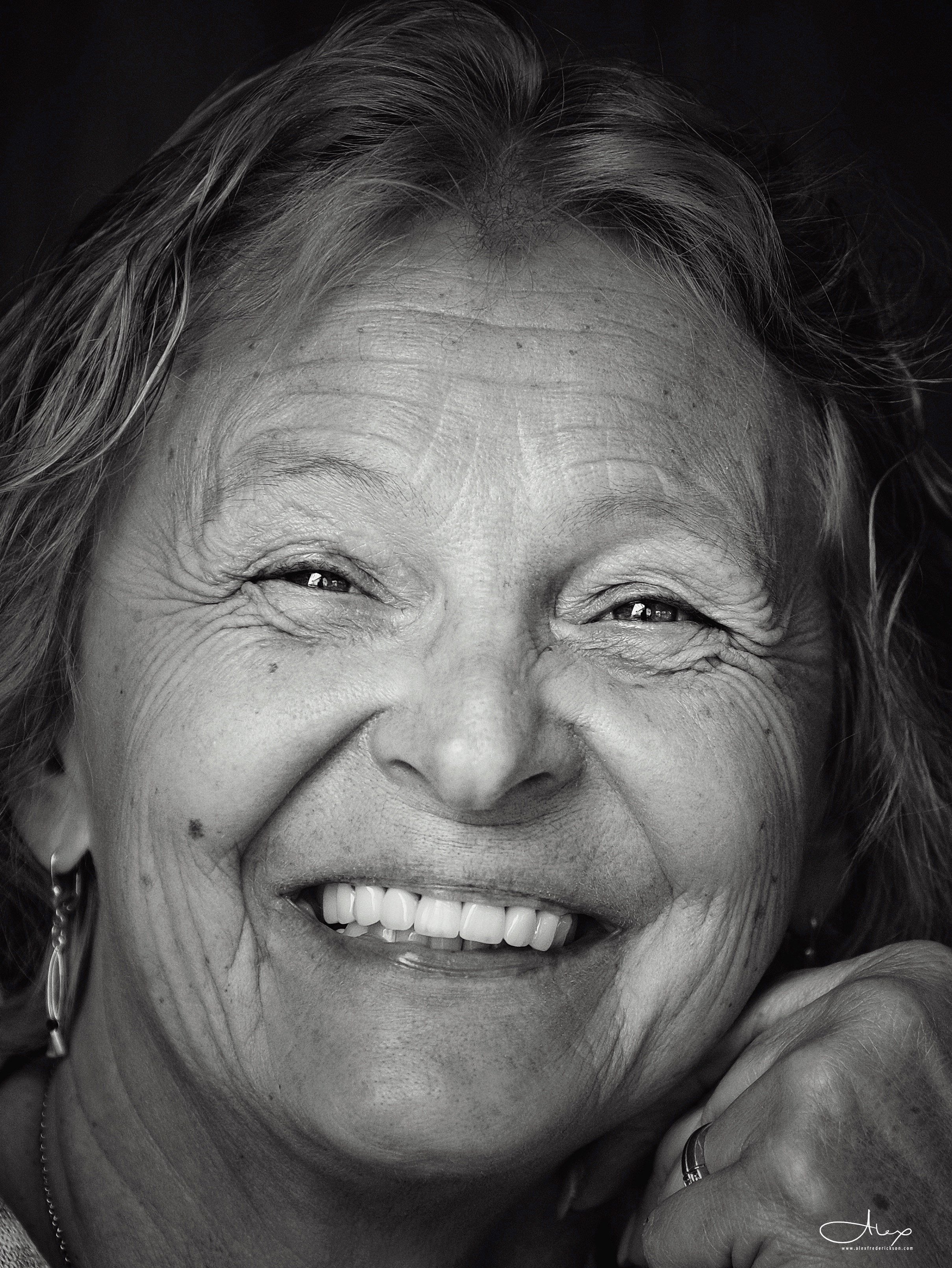 This character portrait underlines this lovely woman's personality in a wonderfully simple way. Picture by Alex Frederickson
You're English but you're currently working and living in the Austrian Alps. (How) is doing such a job different in this kind of environment?
That's an interesting question. Generally speaking, city and country people have a somewhat different view of the world, no matter which country they come from. I live in a ski resort, which means we have a lot of guests from all over the world but our village has just under 3000 permanent inhabitants, many of whom are either related or know each other to some degree. This can make life for a resident 'outsider' such as myself, a little challenging. Business wise, it can be hard to get a foothold when you're not a born and bred local, there's just too much competition. On the other hand, people here are friendly and go out of their way to help one another so I'm not complaining.
Have you always been a writer and a photographer? How did you get into writing and photography? When did you get / buy your first camera?
Oh wow! You may regret asking this one but in many ways, it will explain quite a lot about why and how I'm where I am today.
When I was 18 I trained as a psychiatric nurse instead of going to university as my parents would've wished. I'd always been one of those kids who brought home stray dogs and befriended those who had no friends, so actually, my choice shouldn't have been any great surprise. But it was. After seven amazing years, circumstances dictated I should move on to pastures new and I went to college and gained a postgraduate diploma in Personnel Management. Working in this field, however, wasn't what you'd call a roaring success. Too much dry, boring theory and paperwork and far too little people time. I left it behind after just three years. My next move was definitely one of my better choices – I trained and worked as a self-employed personal fitness trainer and I loved it. Intense people contact with a built-in chance of helping people change their lives for the better. This was, in many ways, my ideal job.
In 2006, I moved to Austria and discovered that the booming personal trainer industry in the UK was almost non-existent here. People who exercise do so because they want to, it's a normal part of life, particularly in mountain resorts. They know what to do and require no additional motivation or assistance. Those who don't exercise don't want to. Simple. I moved on to teaching English, which I found I loved, and still love. My mother tongue is precious to me and it's a necessary requirement for those working in tourism. Plus I get to work with all kinds of people. Win-win!
Back in 2010, I often found myself talking about my experiences as a psychiatric nurse and a friend suggested I write them down. Four very arduous years later, my book 'Labelled' was published and the German version 'Ver-rückt' followed a year later. Writing books led to writing articles and my articles require me to submit accompanying photos. The rest, as they say, is history.
My first camera was a Canon EOS 600D but last year I moved over to Fujifilm and bought an XT2. This was undoubtedly one of the best things I've ever done and my learning and shooting experience became so much easier and infinitely more enjoyable. I just love the Fujifilm X series cameras and lenses.
What are your favourite memories from photo shoots?
Shoots are great. Before every shoot, I research my client and also spend time finding out what they want. This makes the shoot a winner and my favorite memories all revolve around watching people relax and have fun when they realise it's all about being their natural selves and not something they aren't. That's my style, action as it happens and a little 'different'.
Is it more challenging to shoot people or landscapes?
Very often photographers specialise and with good reason. Personally, I find landscape photography less fun but more relaxing. Nature is where I go when I'm all 'peopled out' and my camera is always with me. Always. I find people are more challenging but also more fun. No two people are the same and it's interesting to observe and listen to individuals as they find their own way to where I need them to be to capture their true essence. I don't push it, but occasionally I will guide the conversation or shoot a little to open things up.
If somebody wanted to be a photographer and/or a writer but they don't dare to jump into the deep end, what would you recommend them to do?
We all have something the world needs and if you have something to say or to express either in words or images, don't be afraid, roll with it. It may turn out to be a wonderful hobby or the beginning of a new career. Don't ever think no one will want to hear or see what it is you want to express, you will find your audience. But – please don't do it for the money! Hard work and persistence will eventually lead to your being able to make a living of some kind but very few writers or photographers hit the big time. Do it for you, because you want to and you need to and see where it takes you. If you want to be a writer, write and if you want to be a photographer, take photos. Learn, endlessly. Don't sell your soul to buy the best camera either, buy a decent entry level DSLR or mirrorless camera and learn how to use it properly. It's really not about the gear! There is a huge amount of useful information on YouTube and the Internet in general. Use it and enjoy every second of your journey.
"I am free."
Please complete the following statements spontaneously.
To me, photography is… the most wonderful way I can imagine to capture the moments of real life and hold them forever.
Austria is… a beautiful complexity.
Love is… at its core, really very simple.
Inspiration is… everywhere; you just need to see things with new eyes.
The biggest challenge in my life so far… rebuilding my world after surviving burnout in 2016/17.
I love what I do because… it allows me to be true to who I am. I am free.
My life motto is… look for me somewhere in between helping others, working on myself, avoiding negativity and chasing my dreams.
Thank you, Alex, for the interview!
---
If you'd like to buy the book "Labelled", you can find it in Alex's Webshop for € 18.99 plus P&P.
Pictures by Alex Frederickson